*** This project is still under active testing ***
I wanted a method of monitoring a low coolant level situation without modifying the reservoir. Anytime you drill holes in a chamber designed to contain pressure risks compromising the structural integrity(for traditional float switches). I'm already seeing micro fractures in the plastic being only 4 years old. It may be due for a replacement soon (last I checked FordParts, they are out of stock for the 1.0L).
Apparently contactless water level sensors seem to be compatible with coolant (doesn't usually work with oil though). As of right now I'm testing 3M double sided sticky tape to adhere the sensor to the outside of the reservoir to see how long it stays. A longer term solution would be to use adhesive for the included sensor mount. Obviously I'll be testing this through the Arizona summer to see if the sensor survives engine bay conditions.
The dash LED illuminates briefly with key-on, which is a good test to let you know the warning LED works. If coolant drops below sensor level, the dash LED illuminates. This photo is just the prototype setup, the heat shrink tubing does a pretty good job blending into the background. I plan on making a cosmetic mount for the LED to snap into the same location on the instrument cluster, perhaps with a coolant level icon.

*update* Here's the dash LED holder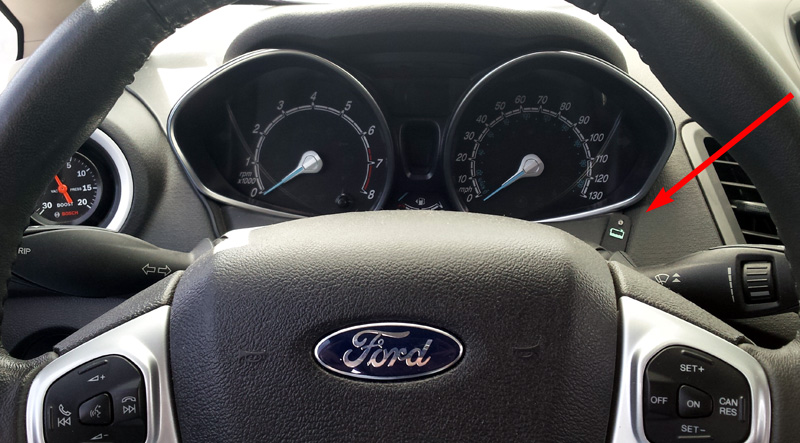 Here is the sensor stickied to the tank (temporary). Oddly enough this LED is active when it senses coolant.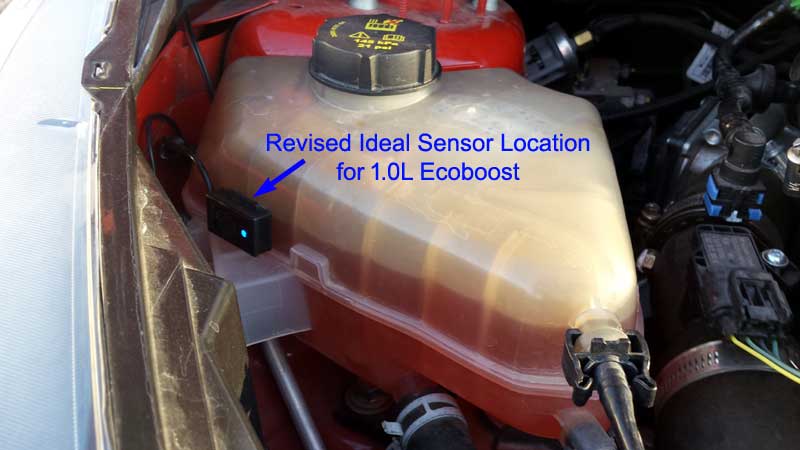 The wires are run inside the fender back to the passenger door upper grommet, which enters right near the passenger fuse box directly behind the glove box. I'm using the heated seats circuit for the sensor so its only active during key-on.
Parts needed: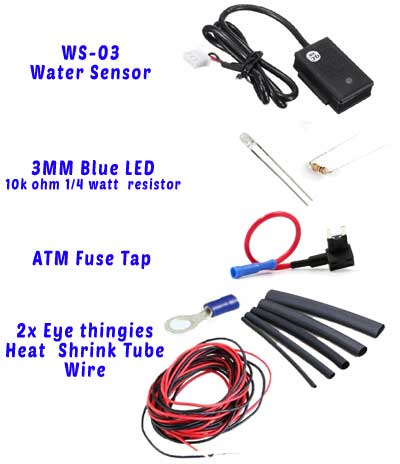 Everything can be found on ebay:
$4.69 WS-03 Non-contact Tank Liquid Water Level Sensor Switch Container Water Level Switch
$0.13 3mm Blue LED
$3.62 3mm
LED dash clip on holder
(optional) or download the stl and print yourself -
coolant-0.04.stl
$0.35 10k ohm 1/4 watt resistor
$1.37 ATM Fuse Tap
$0.37 2amp fuse
$0.20 2x eye thingies
$0.85 Heat Shrink Tube
$0.77 Solder
$2.95 Wire
------------
$15.30
I'll update this thread with more detail after I've confirmed the sensor lives at least a week. The 10k ohm pull up resistor jumpers between the positive sensor lead and the output lead. The dash LED attaches to the sensor output lead. All grounds can go anywhere to the body. I've grounded the sensor to an existing ground near the tank. The dash LED ground is behind the glove box. The dashed lines indicate the long wire runs either to the instrument cluster or to the engine bay.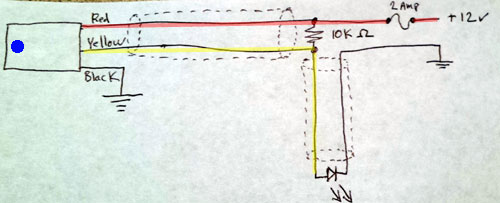 Right now you're probably asking yourself how do these sensors peer through a plastic container and detect water? Pure black box magic. I'm sure there's a reason why auto manufacturers don't use these sensors. (actually the electronics logic and circuitry inside is pretty basic)